ANSI Accredited and IBC Section 1703 Compliant "ICC Reports"
DrJ has received ANSI/ACLASS ISO 17065 accreditation, an international standard for ensuring the competence of organizations that perform product certifications. ISO/IEC 17065 accreditation ensures that DrJ's product certifications are impartial, consistent with international standards, and based on objective testing.
Being accredited by ANSI means that manufacturers can go to jurisdictions in the U.S., Canada and IAF MLA Signatory Countries and have their products approved by alternative product approval authorities through the DrJ certification process. Like an ANSI standard, you can trust the ANSI process as verified.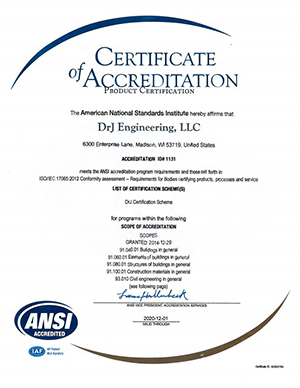 Buildings (91.040)
Elements of Buildings (91.060)
Structures of Buildings (91.080)
Construction Materials (91.100) 
Civil Engineering (93.010)
In addition, a summary of DrJ's key specific scope items follow:
Protection Against Fire (13.220), including fire protection, fire resistance of building materials and elements, etc.
Fasteners (21.060)
Products of the Chemical Industry (71.100), including wood-protecting chemicals, etc.
Iron and Steel Products (77.140), including steel components, etc.
Products of Non-Ferrous Metals (77.150), including composite products, etc.
Wood, Sawlogs and Sawn Timber (79.040)
Wood-Based Panels (79.060)
Glass (81.040), including glass in buildings, etc.
Plastics (83.080), including thermoplastics, etc.
Protection of and in Buildings (91.120) including thermal insulation, seismic and vibration protection, waterproofing, etc.
The "Fine Print" – Product Certification Rules, Procedures and QC Requirements